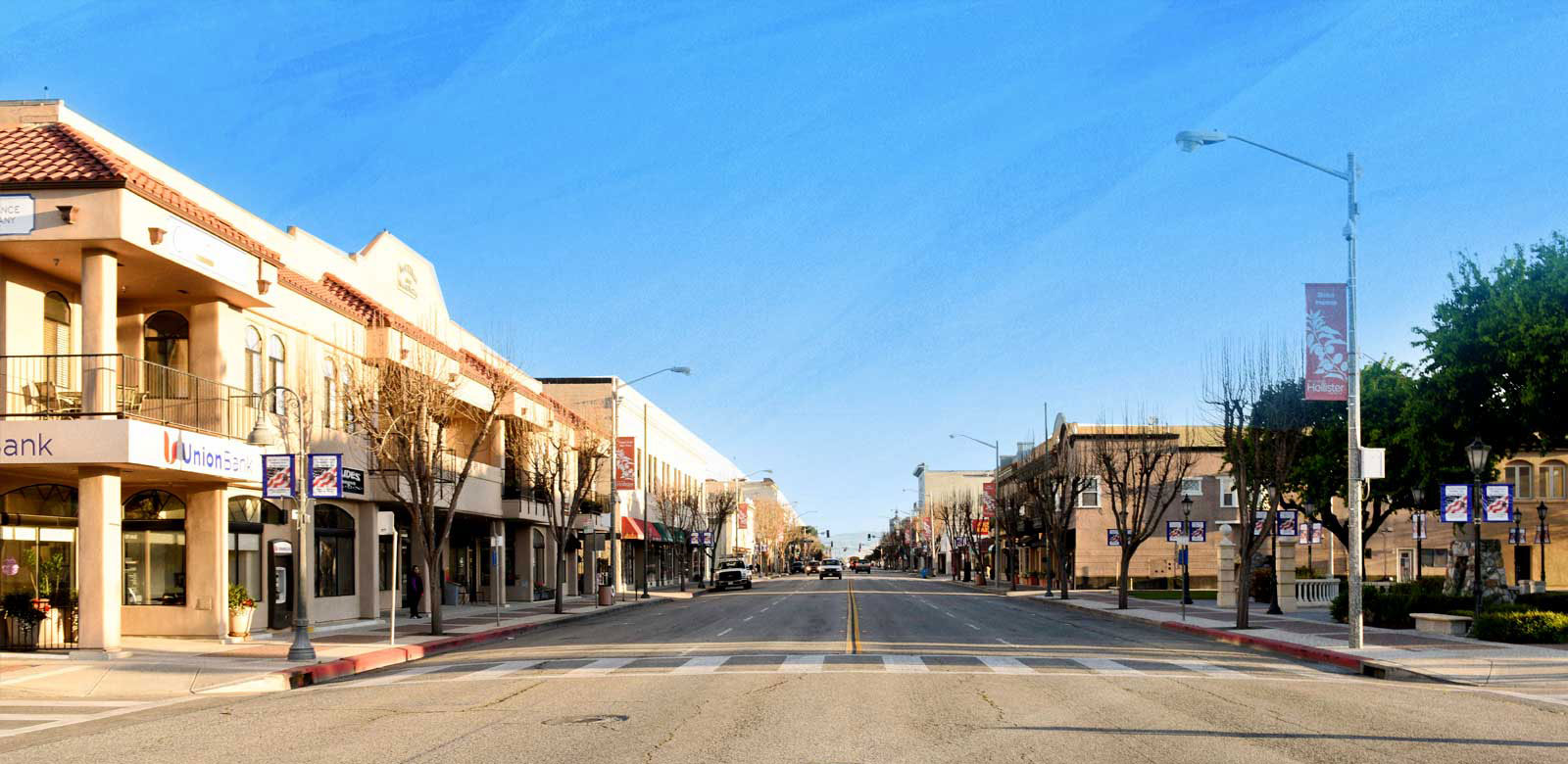 Welcome to the City of Hollister, seat of San Benito County and Gateway to Pinnacle National Park (East) www.nps.gov/pinn/index.htm.  We are nestled in a small valley just 40 minutes from the Monterey Peninsula and less than an hour from the bustle of the Silicon Valley. As your travel on Highway 25 or Highway 156 to Hollister take note of the fields you pass – we feed the world! Sea breezes regulate our temperature and enable seed companies and farmers to grow a variety of over 70 cool and warm weather crops in San Benito County.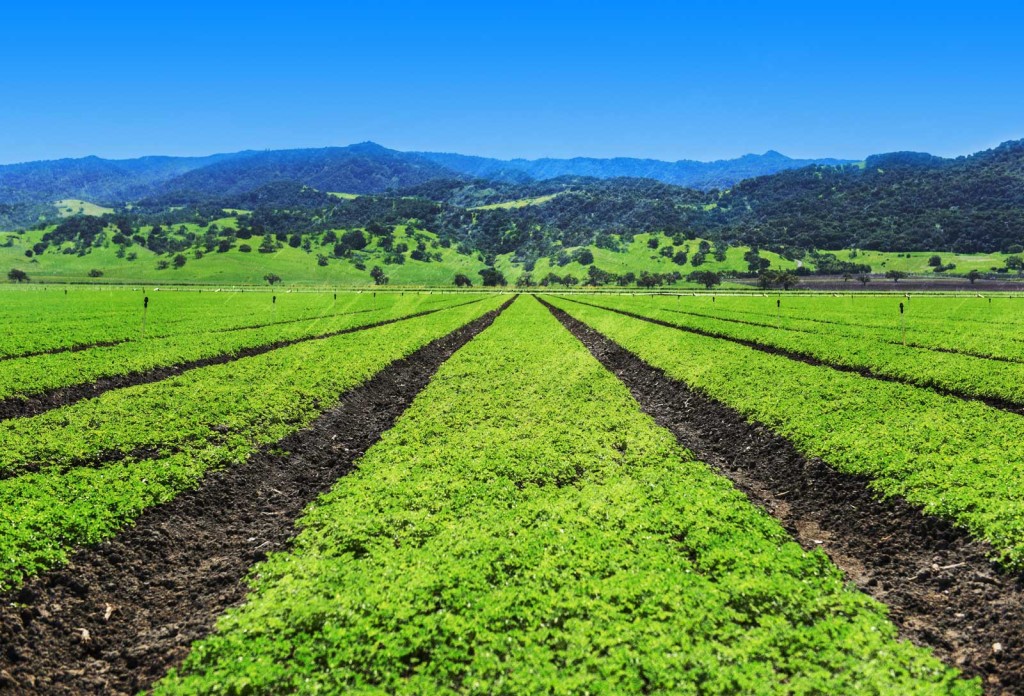 The City of Hollister was named for Colonel W.W. Hollister who drove the first flock of sheep across the continent and acquired Spanish Land Grants with the Rancho San Justo in San Benito County (Rancho San Justo) and Santa Barbara County (San Marcos).  The San Justo Homestead Association of farmers formed Hollister in 1896.  At the first town meeting, a dispute arose over its name. It was suggested that it be called San Justo but one person protested so strongly against adding one more name to the growing list of saints' names in California.  San Justo was rejected. Hollister was incorporated on March 26, 1872.  Portions of the San Marcus land grant in Santa Barbara County are home to the Hollister Ranch and a surf spot made famous by the clothier Hollister Company.  The City of Hollister has another type of 'rift' that you can explore at Dunne Park. The actively creeping Calaveras Fault can be seen at the surface moving curbs and cracking sidewalks amidst historic homes.  This is one of the few parks in the world where you can roll on a rift zone! 
Hollister has two National Historic Districts – the Downtown and the Monterey Street residential district.  Pick up a brochure for a walking tour at City Hall. The variation of architectural styles in our Old Town Hollister is a visual treat.  Our 100 year old airport also has a place in history. Everest Turner converted a pasture used for flying to 'Turner Field" in the 1920s for a new business of crop dusting that expanded to mail carrier aircraft and recreational flight. The United States Navy took control of Turner Field in the 1940s. The airport was used to train pilots in ground attacks and the base was expanded to encompass 210 acres by 1945. The City of Hollister acquired the airfield after World War II. Today pilots enjoy Hollister's favorable climate for flight. The 343 acre general aviation airport is a national center for historic aircraft restoration, houses private collections of vintage aircraft, and home to an annual airshow www.hollisterairshow.com, the base for Cal Fire operations, skydiving and hang gliding. An industrial park near the airport provides opportunity for business development with the need for airport support services.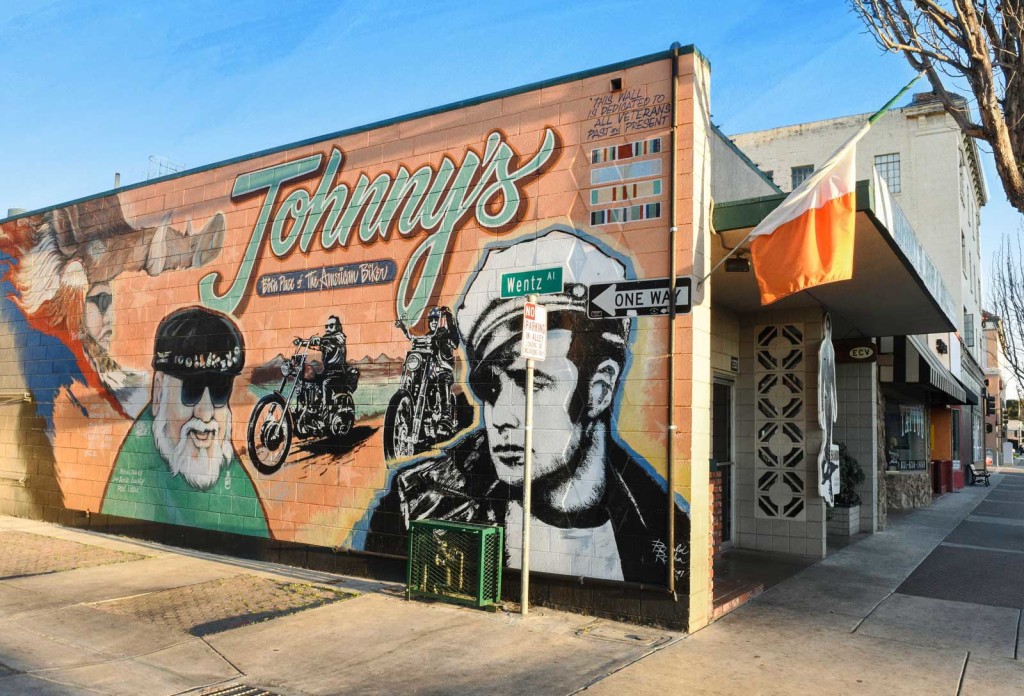 Hollywood has a place in Hollister and nearby locations. A Victorian beauty at the corner of Monterey and South Streets was used for filming East of Eden. The movie "The Wild One" is loosely based on an incident that occurred in downtown Hollister shortly after World War II and made Hollister the birth place of the American Biker. At the back of Johnnies Bar you can find a monument to "Wino Willie" member the Boozefighters Motorcycle Club and its famous 1947 Gypsy Tour. An annual motorcycle festival is held in downtown Hollister near July 4th celebrating the American Biker.