[vc_row][vc_column][vc_column_text]
Every once in a while you need to spend some time with your friends. San Benito County is a great place to have a girl's weekend away from the noise and relax.  Just 40 minutes inland from Monterey and about 45 minutes south from Silicon Valley, you find yourself in San Benito County surrounded by rolling hills, vineyards, spas and shopping.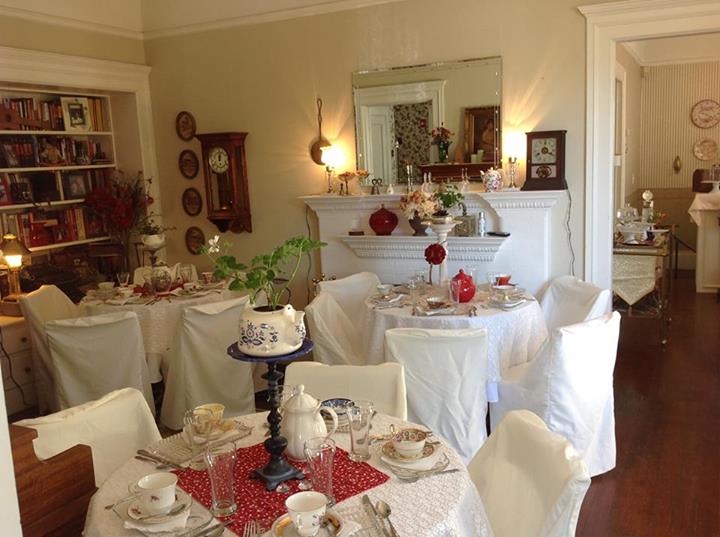 Where to stay?  Of course Joshua Inn Bed and Breakfast; they offer a comfortable relaxed atmosphere.  This lovely Victorian home has 5 rooms, each with it's own theme and comfortable and luxurious bedding. After check-in, go relax in the sitting room or on the porch with a complimentary glass of wine and goodies from the old-fashioned candy bar. Owners Greg and Tricia Harvey will be happy to recommend some great local restaurants for dinner. You can finish the day back at the Inn visiting with other guests,  sitting by the outdoor fire place or relaxing in the lush, cozy robes and slippers found in each room. In the morning you will wake up to find coffee or tea waiting for you at one of the coffee stations to enjoy while you get ready for your day of adventure. Wait until you see the famous gourmet breakfast included in your stay, prepared by Tricia Harvey.  You will be talking about it for days.
Now how about a little more pampering? Paradiso Spa and Salon is just a couple of blocks from Joshua Inn and offers a large selection of services. Enjoy massage therapy, body and facial therapy or an infrared sauna. You can finish your experience with a hair and makeup makeover.  Paradiso offers a wide variety of hair services including hair art, color, texture or nourishment treatments and special occasion styling. You can also take a makeup lesson or have an experienced cosmetics expert apply makeup and faux eyelashes.
The Mediterranean climate and unique soils make this a special place for growing wine grapes and is the reason San Benito County is home to many vineyards and wineries. An afternoon of wine tasting is a great addition to your weekend.  There is a map of the Wine Trail available on this site. A few wines to try are DeRose Winery's Hollywood Red, Pietra Santa's Sangiovese and Calera's Pinot Noir, if you are up to a couple more on your way back into town you can stop by Guerra Cellers and Leal Vineyards.
Finish off your day at The Grove restaurant where you can enjoy wood-fired pizza or one of several other unique dishes from their farm-to-table themed seasonal menus featuring local produce. They offer wines from their own Leal Vineyards along with a full bar. You may eat indoors or outdoors on the patio which has a fountain, fire pit tables and live music (with a dance floor) on weekends. Cap off your meal with something from their amazing bakery.
After another restful night and delicious breakfast you will be ready to finish off your girls weekend with a little shopping. Start in downtown Hollister with San Benito Bene, a shop that offers products for San Benito County. Bella Charm and Irma's offer clothing and accessories while Eclectic Treasures is a great place to shop for your home. Before leaving our County head to San Juan Bautista where you can find many antique shops, galleries and boutique stores along with great places to enjoy lunch. Maps of the Mission City with all of the locations are available at the San Benito County Chamber of Commerce office or the San Juan Visitors Center located inside the San Juan Bakery and Grocery.
[/vc_column_text][/vc_column][/vc_row]